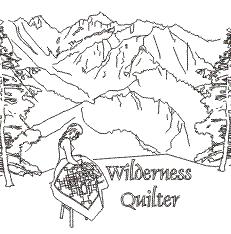 home
about
memories of papa
granny&me
patterns (PDF downloads)
creating with clothing
custom memorial quilts
policies
blog
contact

Backing Considerations
Quilt backings are typically 100% cotton but there are other acceptable options, especially when making keepsakes from clothing. On the Loving Arms Wrap Quilt, for instance, I chose a jersey knit (like tee-shirt fabric) as I wanted the quilt to be extra soft and cozy.
Providing that it is smooth and in good condition, any large piece of fabric with sentimental value (sheet, table cloth, throw, etc.) can be considered as a backing, particularly if the quilt will be tied. These fabrics may require special handling, however, especially if they're stretchy.
The first consideration when assessing a non-traditional backing option is whether it will be compatible with the quilt. How will the quilt be used? By whom? How often will it require laundering and by what method? For instance, if the quilt recipient is a small child, a backing of silk or velvet is a poor choice - fleece or a knit would be more appropriate. The best policy - if you have any doubt about a specific backing for your quilt, choose something else. There's no sense putting the time and effort into completing a quilt only to find too late that the backing chosen has ruined your project!
There are several alternative fabrics that, with proper handling, make wonderful quilt backs. And there are some that are not so good.
Fleece (my all time favorite for cuddly warmth) works really nicely as a quilt back, especially for children's quilts. Using fleece as a backing often eliminates the need for batting as the fleece may provide the desired level of thickness and warmth. While the lengthwise grain is fairly stable, there's a lot of stretch across the grain. Care must be taken when using fleece to avoid distortion during the layering and quilting process. To prepare for quilting on a regular home sewing machine, pin the layers in place every few inches, being sure the backing is smooth but not pulled out of shape. Adjustment of pins during the quilting phase may also be necessary. If quilting will be done by machine on a frame (my preferred method), load the fabric with the stretch running parallel to the rollers so that advancing the quilt doesn't cause unwanted distortion. If there is any chance the finished quilt will ever be hung for display, make sure the stretch is running across the quilt rather than from top to bottom.
Jersey knits (tee shirt fabric) and other medium weight single or interlock knits can be used successfully but, as with fleece, care must be taken to avoid stretching the backing out of shape while layering and quilting. I've used jersey knits as backings a couple of times and love the comfy, cool feeling - perfect for summer quilts! Select medium weight knits for your quilt backs. Avoid lighter weight or thin knits - they won't hold up well to regular use. As with fleece, these fabrics have quite a bit of stretch across the grain, but very little on the lengthwise grain. See specific tips in fleece section, above.
Sweatshirt fabric is another favorite of mine. While it has a little "give", the stretching is minimal so it's relatively easy to work with. Unable to find true sweatshirt fabric (I didn't want fleece) by the yard, I cut and pieced a backing from the usable portions of several old sweatshirts. This provided the warm, lint-resistant, comfortable, durable backing I wanted for a winter baby quilt. I simply cut the sweatshirts into large rectangles which I sewed together with 1/2" seams. As I sewed, I ironed the seams open and stitched the seam allowances down about 3/8" from the seam on each side. Shortly, I had a large enough piece of fabric for my quilt back.
Double knits are medium to heavy weight fabrics and are the easiest knit with which to work as they have little stretch. They may be denser or heavier than desired, however.
Velour (or stretch velvet) can also be used as a quilt back, providing a touch of elegance to your project. Follow the tips in fleece section, above.
Velvet is not recommended for quilt backing but you can get a similar look and feel using velour, velveteen or uncut corduroy.
Velveteen is another elegant choice that may be selected for some projects. Usually made from 100% cotton, it will shrink (and possibly fade) so prewashing in the same manner as the finished quilt will be laundered is recommended. As it contains a nap, care should be taken if the backing is pieced to ensure that the nap is all running the same direction. Velveteen also is easily marked by pins, feed dogs and/or presser foot so tying a quilt with a velveteen backing may be the best option.
Uncut corduroy has an elegance similar to velveteen but is easier to work with as it is less prone to marking from pins, feed dogs and/or the presser foot. Like velveteen, it also has a nap so care should be taken if the backing is pieced.
Satin is usually made from silk, polyester or nylon. When woven from cotton (or sometimes rayon), it's called sateen. Although some satins may be appropriate for some projects, sateen is probably a better choice. When choosing a satin or sateen fabric, knowing the fiber content is valuable in determining whether the backing will withstand the use intended (type of use, frequency of washings, etc).
Spandex or other fabrics with two-way stretch are never recommended for quilt backing.