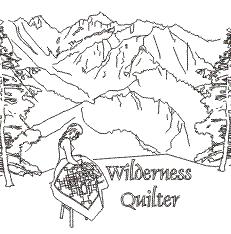 home
memories of papa
granny&me
patterns (PDF downloads)
creating with clothing
backing considerations
custom memorial quilts
policies
blog
contact

About Me
I am the Wilderness Quilter, so named because I work from my home which is located in the Trinity Alps Wilderness in far Northern California. It's ideal here - quiet and peaceful. We have absolutely no street noise because we have no street - which is why I have only a Post Office box rather than a physical address. To see our beautiful location, visit the about page at Horn's Jewelry, my husband's family business.
I've been sewing all my life - I can't even remember a time when I didn't know how to sew. I dabbled with quilting in my teens and then again as a young mom. Toward the end of 2002, thanks to Alex Anderson and Simply Quilts, my journey into serious quilt-making began. Since then, I've made dozens of quilts, many of my own design.
In 2006, my daughter-in-law requested that I make keepsakes from her father's clothing, which prompted creation of several keepsake items - see Memories of Papa on the Custom Memorial Quilts blog. Patterns for these projects are available (or soon will be) as PDF downloads on the pattern page. In addition, on the site, I've included helpful tips for working with clothing to create your own keepsakes. See my creating with clothing and backing considerations pages for more info.
Also, I'm dedicated to passing my love of quilting (and the skill of sewing) on to my grandchildren and great-nieces (Grandpa calls it corrupting another generation) so I'm (slowly) developing a line of patterns called Granny&Me for adults and children to share.